Routine Dental Cleanings, Checkups and Exams
Dental cleanings and exams monitor the health of your teeth. Regular trips to a general dentist help prevent cavities and tooth pain, gum disease, and tooth decay. It's recommended that you see a dentist every six months for a professional cleaning. 
Many people feel apprehensive about going to the dentist. If you are nervous or uncertain about going to a regular exam, you shouldn't wait until you have a toothache. Visiting a dental office for your regular check up is just as important to your health as your annual primary care visit.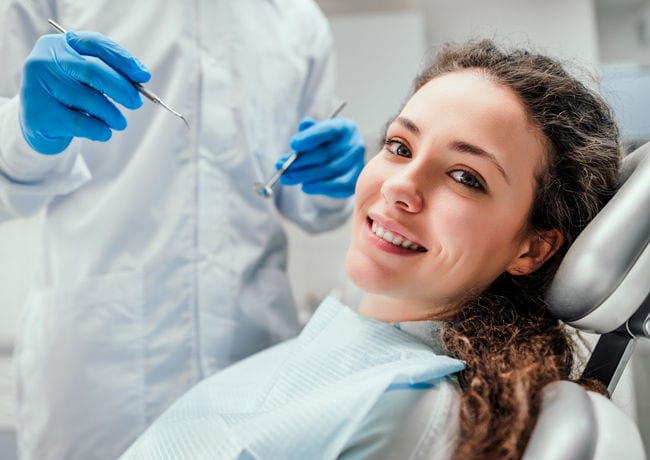 What Can You Expect During A Dental Exam?
Going to the dentist is like going to any doctor. First, you will be asked about your medical history before the exam begins. Be sure to tell your dentist about your current medications, allergies, and any conditions, like asthma, heart problems, or diabetes. Some conditions can affect your oral health, so it's important that you share this information with your dentist.
During your appointment, one of our dentists will examine your teeth and gums and take x-rays to check for cavities and signs of gum disease. An oral cancer screening is also completed at every appointment.
At your dental exam you'll receive a comprehensive teeth cleaning and check up. Your dental hygienist will remove plaque and tartar from your teeth during your cleaning. If plaque and tartar isn't removed, there's a higher probability of you developing an oral disease. You'll also receive a polishing and flossing of your teeth.
At the end of an exam, your dentist will discuss what was found and give you suggestions on how to care for your teeth. Your dentist will advise you on proper home care techniques, diet, and the best brushing and flossing tools available.
If necessary, your dentist may suggest a future procedure to ensure the health of your teeth for years to come. The dentists at Ukena Brandes will walk through your options in detail to ensure you feel informed about the importance of your oral health, next steps, and the affordability of procedures that may be necessary. Whether you're a new patient or someone familiar with our practice, we'll help settle any fears or apprehension you may have.
About The Teeth Cleaning Process
Let's walk through the process of getting your teeth cleaned. You'll know what to expect at your appointment and be able to prepare.
To start, one of our dental hygienists will use a mirror to examine your teeth and gums. 
The hygienist will use a scaler to scrape away plaque near the gum line and in between your teeth.
After scaling, the hygienist will use a gritty toothpaste to scrub and polish your teeth. This gives your teeth a deep cleaning and further removes plaque and tartar.
The hygienist will floss your teeth to remove any plaque left in between your teeth. 
Once your teeth are polished, one of our dentists will examine your teeth and gums closely. They will discuss any problems and future treatments with you. 
You may receive a fluoride treatment if your dentist recommends it. Fluoride is used to strengthen your tooth enamel. Fluoride can come as a foam or varnish. Your dentist may ask you not to eat or drink within 30 minutes of the treatment.
You can expect this routine at each of our dental appointments. Dentists appointments can cause a lot of anxiety for some people. Knowing the process and understanding why things are done can help alleviate some of this stress.
The Connection Between Your Teeth and Your Overall Health
The connection between your teeth and the rest of your body starts with the bacteria in your mouth. The bacteria found naturally in your mouth are harmless. However, there are harmful bacteria in plaque and tartar. As plaque continues to build up on your teeth, you invite more bacteria into your mouth. Without regular oral care, these bacteria can cause tooth decay, gum disease, and other infections.
Additionally, many studies have shown a correlation between poor oral health and heart disease, stroke, diabetes, and Alzheimer's disease. Our dental team will discuss this with you at your appointments. Maintaining your oral health now can help you avoid some potentially serious health issues down the road.
The Importance Of Dental Education
Dental education is a very important part of our practice. Understanding how to properly clean teeth and look for signs of problems helps our patients do what is necessary to keep their teeth for a lifetime. During your initial exam and regular visits, our emphasis will be on helping you have the healthiest mouth possible. 
Taking care of your teeth with daily brushing and flossing is the best possible way to care for your oral health. Regular trips to the dentist further protect your enamel from plaque buildup. Our friendly staff at UKB Family Dental will provide you with strategies to help keep your smile healthy and maintain your long-term oral health through regular visits to our Springfield, MO family dentistry office.
Schedule an
Appointment Today
At Ukena Brandes Family Dental, you'll be treated like family at every visit. We listen to your needs to help you make the best decisions for your smile.
Call us to schedule an exam today.