Once your kids get their first teeth it's time to take them to a dentist. The American Dental Association recommends that children visit a pediatric dentist shortly after their first tooth erupts or before their first birthday. Our family dentistry has experience caring for children of all ages.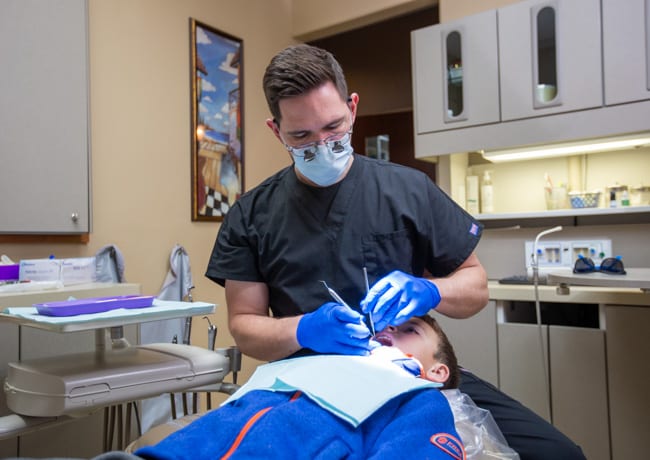 At an exam, our dentists will examine your child's teeth, gums, jaws, and bite to ensure that they are developing healthily. Our dentists will also give your child's teeth a gentle cleaning. Children often receive sealants and fluoride treatments at their exams to protect their teeth from cavities. If your children develop cavities, they will need fillings.
Cavities are common in children. If left untreated, cavities can cause issues with eating and speaking. To prevent cavities, children may need sealants for their back teeth. Sealants help stop food and plaque from building up inside the grooves of teeth. This protects tooth enamel from decay. If your child's teeth are at risk of cavities, our dental team may apply sealants. 
Children often receive fluoride treatments to strengthen their tooth enamel and fight cavities. A fluoride treatment takes only a minute and involves brushing fluoride varnish on your teeth. After a fluoride treatment, it's recommended that children wait 30 minutes before eating or drinking.
As plaque builds up on teeth, the bacteria in plaque begin to break down tooth enamel. Cavities form from the loss of enamel. If left unchecked, cavities will enter the inside of the tooth, which can affect the nerve endings. When this happens, the patient may feel pain, and it may lead to infection. If your child ends up with a cavity, our dentists will remove any decayed material from the infected tooth and apply a filling. Depending on the cavity, fillings may be applied to the inside of the tooth or may be placed around the tooth.
Primary teeth, or baby teeth, begin to erupt when a child is about six months old. Permanent teeth begin to appear around the ages of six and seven. At your child's appointment, our dentists will be available to answer questions about your child's dental health and development. To prevent cavities, children should brush and floss regularly. Diet can play a role in causing cavities, so you may consider limiting your child's intake of sugary foods and drinks.
At Ukena Brandes Family Dentistry, we can help your kids keep their teeth and gums healthy. Start your family's relationship with our pediatric dentistry team today.
Schedule an
Appointment Today
At Ukena Brandes Family Dental, you'll be treated like family at every visit. We listen to your needs to help you make the best decisions for your smile.
Call us to schedule an exam today.