Crowns replace missing teeth, giving you a natural-looking smile. If you have a missing or badly broken tooth, an implant may be a good option to replace that tooth. Our dentists can coordinate with a specialist to create the best implant and crown that you can get.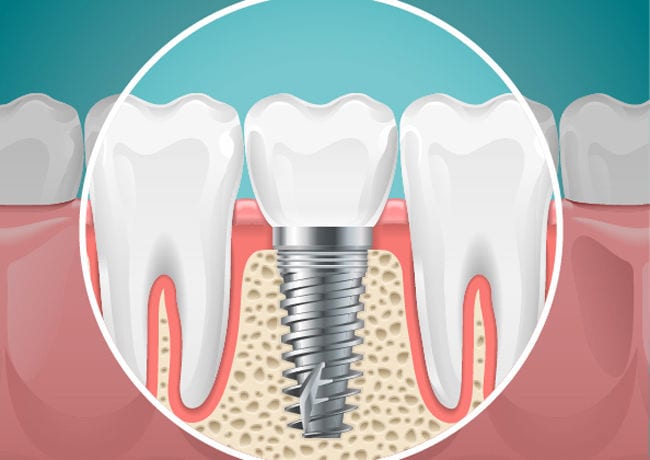 What is a Dental Implant?
Dental implants replace missing teeth. Instead of attaching crowns to your natural teeth, a dental implant uses your bone and gum tissue to support the artificial tooth. Implants are made of titanium and placed inside your jaw. A metal implant serves as a replacement for the roots of your tooth. After your bone and gum tissues heal, a crown will be attached to the implant. 
Getting dental implants takes several months. Your bone and gum tissue must be healthy enough to support implants. If you qualify for dental implants, the first step will be placing the implant. Once the implant is placed, you will have to wait three to six months for your bone to attach to the implant. A connector, known as an abutment, will be attached to the implant next. The abutment will link the crown to the implant.
Implant restoration is the process of attaching a crown to the implant.
Our dentists will make an impression of your teeth.
Using the impression, we will make your permanent crown.
Our dentists will connect the crown to your implant. Crowns can be cemented to the abutment or screwed into place.
We will make sure your new crown fits comfortably.
Dental implants can improve many parts of your life, from your appearance to the way you speak and eat. With dental implants, your teeth can return to normal, and you can enjoy a beautiful, functional smile.
Some people may consider prioritizing cost savings for this procedure, but that savings could be costly. Due to the complex nature of dental implant restoration and surgery, in addition to the potential for needing bone grafting performed, choosing a highly qualified Doctor of Dental Surgery (DDS) is very important.
Be sure to call Ukena Brandes Family Dental in Springfield, MO for all of your dental implant needs.
Schedule an
Appointment Today
At Ukena Brandes Family Dental, you'll be treated like family at every visit. We listen to your needs to help you make the best decisions for your smile.
Call us to schedule an exam today.